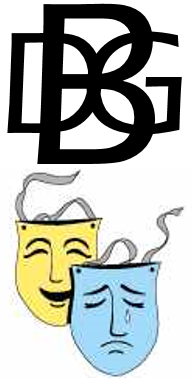 The original company 'The Barford Players' was formed in 1945. In the post war climate of austerities there was a need to provide cheap, home grown entertainment for both members and audience alike. The first production was 'A Quiet Weekend' by Ester McCrachen. This was an overwhelming success and was quickly followed by further plays. For several years a spring and autumn production was staged. Always with a box set with three acts in the Memorial Hall, as today, but without the advantage of a stage, kitchen and bar and toilets at both ends of the hall. A temporary stage had to be built at the opposite end of the hall to the present stage and a set constructed just one week before the performance. Tickets were sold at Hutchinson's shop (on the corner) for 2/6d (two shillings and six pence = 12 ½ p) and there was always a queue on the Monday that selling began.
Over the years membership waned and eventually after about fifteen years the last few stalwarts decided to call it a day. However, after a short interlude a new group was formed 'The Avonside Arts Group' who performed plays, music halls, festival plays and gave arts and poetry displays. Sadly after a very short time this company folded due to lack of membership. Again, just like the phoenix, and three enthusiastic performers, the present 'Barford Drama Group' raised from the ashes with a renewed vigour.
Barford Drama Group has now been entertaining our audiences and ourselves for many years with the help of our loyal friends who have supported us so well over the years. Over the years we have raised over £96,000 for charity, donating to 45 different causes. Barford Drama Group continues to develop and find challenging plays to excite, stimulate and entertain, and always welcomes new members to act, direct, or help out with the technical stuff or backstage. No need for any experience, just enthusiasm and a willingness to join in.